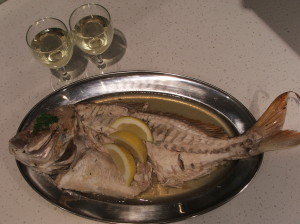 Gut, gill and wash your fish frames or heads. Place the fish in an oven bag. With whole frames you may need to fold the backbone. Use one oven bag per fish.
We use a mixture of white wine and garlic in the oven bag – you can be creative here.
Bake in a medium oven until fish is cooked through – timing varies according to the fish size.
Serve on individual platters with lemon juice and seasonings – and your favourite drink.
We eat fish frames with wedges or bread and a good Hawkes Bay Sauvignon Blanc.
This is one of our favourite meals!