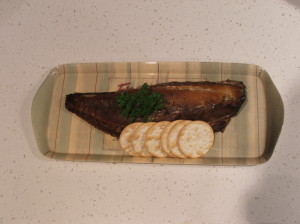 Make up a sugar/salt mixture using 2/3 brown sugar to 1/3 non-iodised salt. Rub mix into fillets (for 1 kahawai fillet, a small cupped handful is generally sufficient).  For something different, try some chopped garlic or ginger in your sugar/salt mix.
Layer fillets in a large dish and refrigerate for the night. Hang prepared fillets to dry – we use a clothes rack in the garage with newspaper underneath and hooks fashioned from wire. Hang for a full day, or until they are dry to touch.
Smoke in your usual fashion.