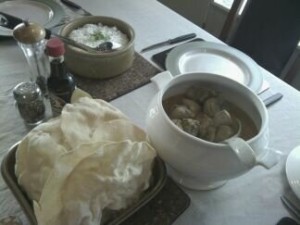 1kg of fish, cut into 1cm cubes
2 Tbsp green curry paste
2 Tbsp oil
2 med onions, finely diced
1 tsp garlic, crushed
1 tsp paprika
400ml coconut cream
2 cups chicken stock
lemon rind, finely grated
6 kaffir lime leaves
salt & pepper to taste
garnish: sliced spring onions and 1/2 cup toasted cashew nuts
Rub green curry into fish and set aside in the refrigerator. In a heavy saucepan heat oil and cook onions until tender. Add garlic and paprika and sizzle a few seconds more. Mix in the coconut cream, stock, lemon rind and lime leaves and simmer for 10 minutes (sauce can be prepared ahead to this point).
Add the prepared fish. Reduce heat to low, cover tightly and leave to cook at low heat for 5-6 minutes. Season to taste. Garnish with chopped cashew nuts and spring onions. Serve with rice and pappadums.
Serves 4-6 people